I

t's only music critics' problem to decide the genre of Pontiak consisting of Carney brothers. Neo-psychedelic rock, stoner rock or hard rock? Does not matter to Pontiak. To me, Pontiak is one of the bands that people will talk about as "legendary" in the future. The minute I saw the post about Pontiak's addictive latest album "Innocence"s European tour I knew it, I had to go and see them live. RoHam Bar, Budapest.
There were at least two more hours for the show. I was listening to the support bands. Then I saw Van with his "Golden Void" hat, Jennings next to him and Lain next to one of the speakers trying to get some rest in the concert area. Looked all people's faces to figure out if anyone noticed them. There was only one guy with long beard staring at them. Later I learnt that he was a well-known DJ.  I was looking for the perfect time to talk to them. To me, that was one of the most exciting moments of my life.
Ayşegül Doğan: Don't know how the other Pontiak listeners feel about (kinda) softer songs like "Wildfires" and "Darkness Is Coming" of your latest album "Innocence", but I love all the songs! I was still curious about the setlist and found out that you never played "Second Sun" (from Living) live. And "Silver Shadow" (from Echo Ono) was not in the setlist either. Are there any more songs that you just play in the studio and not during the shows?
Jennings Carney: There are a lot of songs which we never play live. A lot of times, we find there are songs that are really great on record and songs that are made for stage and some that can do both. Being in the studio is an amazing thing because when you create the songs, they start to have individual characteristics which lend themselves either to a live performance or to just live on record.
AD: How was the European tour? Which city just dazzled you with the audience and the beverages? There must be a funny story as well.
JC: The tour was incredible and it would be hard to pinpoint one specific city! There are funny things all the time. At the beginning of the tour after our Berlin show (which was the first show of the tour) we stayed in a giant hostel complex that was fairly difficult to navigate because of all the different sections and floors. So I was still very jet-lagged and went to bed but then about 2 hours later I woke up in the middle of the hallway not knowing where I was. I had slept walked! It happens to me sometimes when I am jet lagged and so I was not surprised it happened but I really had to pee and I didn't know where I was or how to find a bathroom. I wandered the halls for about 30 minutes in my underwear and tshirt until I found a basement bathroom! Then I had to find my way back which eventually put me into the main lobby where I had to walk by all these people who were partying and I was in my underwear! It was pretty funny.
AD: By the way Hungarian people were quite jealous that there would be four shows in Slovakia. I was trying to comfort them as an example! Wish I could see you in İstanbul or even in Ankara! You told me that the booking agency lost connection with Turkey?
JC: We really want to come play İstanbul! From what I know, playing shows can be hard in Turkey sometimes. It was my understanding the promoter, with whom our agent was working, was not able to do the show. But maybe in the future!
AD: You guys are so humble! After that awesome show you almost talked to everyone. Living on a farm and enjoying nature in Virginia -apart from being rock stars – what about Pontiak's daily life?
JC: Thanks. I love jumping off stage after our set (they really jumped off the stage) and talking to the people who came to the show! I know that in everyone's life there are many things which demand attention and time. So for someone taking the time to come to the concert means a lot to me and to us! It also gives me the opportunity to meet the people who like our music and I love meeting people all over the world.
As for our daily life, my brothers and I are in the process of starting a brewery in the county where we grew up. We love beer and love visiting the traditions of beer all over the world. So that pretty much takes up most of our time, in addition to our studio time, practice, writing music etc. …
AD: Just released a new 7-inch vinly via Revolve Records. (https://soundcloud.com/rvlv/sets/pontiak-revolve-7) Happy to hear two unreleased songs. More exclusive news from the studio or will you be on tour for a while? Or any collaboration albums with other bands?
JC: Glad you like the new 7-inch! It was a lot of fun for us to record over this last summer in between tours. We have a series of small releases coming up over the next year or so – we have a tape release coming out early next year – I can't say much yet about that. Also, we are working on a split with a friend, also to be released next year. Work on the new album will start sometime in the spring so hopefully we will have something by sometime in 2016.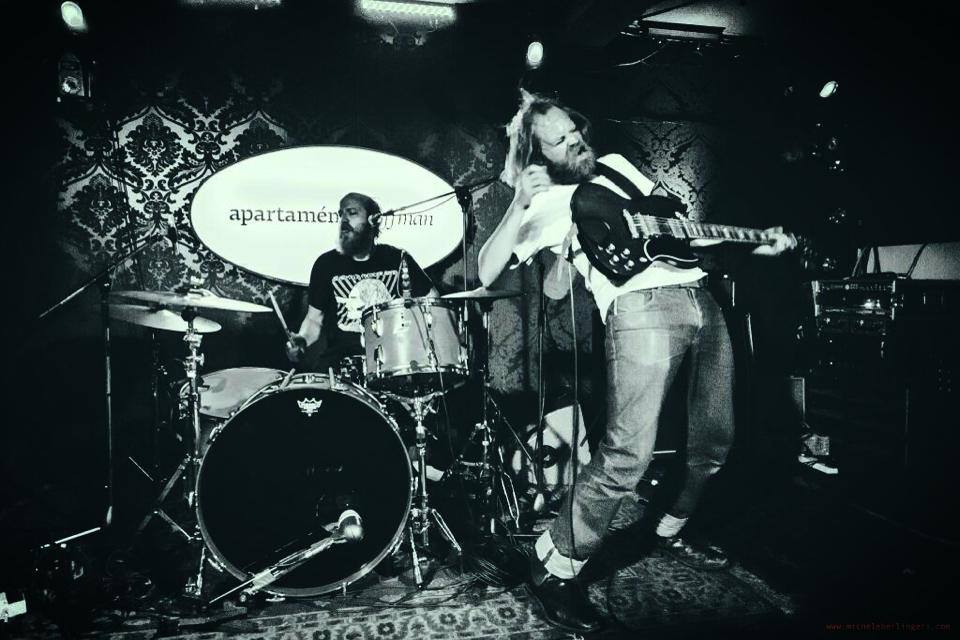 AD: What have you been listening lately?
JC: I haven't been listening to too much lately. Oddly enough I enjoy silence and spend a lot of time in silence. I think it helps to create a space between the music that I make and the music that's in my head. I also kind of put my internet radio on random and listen to all sorts of stuff when I do get in the mood but nothing specific. But I would say that my default is usually classical, baroque or romantic music.
Thanks so much for coming to the show in Budapest! And for traveling all the way from Turkey! It was great to meet you and we hope to be in Turkey soon!
P.S: "Beverage of the hour" photograph is a reference to small talk between Pontiak's record company Thrill Jockey and them. Everytime they are on tour, Thrill Jockey ask them the beverage of the hour via Twitter, and Carney brothers share the photographs. Before the show we talked a lot and when it was time to take a picture, I was like "Wait a minute, this should be a 'beverage of the hour' photo."
P.S 2: Slayer's whiskey or Pontiak's beer? Big up on beer! By the way Thrill Jockey (in the partnership with Dark Matter Coffee) now have their own coffee. The package is certainly a piece of art. One who tears it should be punished. ✪