Notebook:
When I was 17, I did not want to work so I did the sleeve, I sang and a friend accompanied me on guitar. A guy offered us to go to his cabaret, we accepted and I continued to sing in unlikely places often in front of a sparse audience. I was paid by the hat. It wasn't much but it was still better than unloading 50kg bags of cement at the freight station with wet towels on the shoulders so as not to get burned. I sang alone accompanied by an orchestral band, fellow musicians did me a favor for the recordings. My lifestyle was incompatible with a group project. I lived on my sailboat and of course I traveled a lot. In June 1994, Mousse, if I may say so, very advantageously replaced the orchestral band. I duplicated my cassettes myself, which I proposed at the end of my show. The same goes for my books, which are always in self-production. Today we sell albums for free and all tracks are free to download. The punks like me and this feeling is shared but I have never been punk either in the music or in the appearance. I have always kept my independence. I have nothing against producers, managers, turners etc. But the artistic world has always been completely foreign to me. In short, I'm not part of the family, that's how it is and that's fine. Moreover, I do not consider myself an artist in the noble sense of the term, for me the show is the only way to live without working, that's all. We are self-managed and this mode of operation suits us perfectly. And don't forget that I have an advantage over most of you: I can no longer die young.
Jean-Claude Lalanne AKA le Prince Ringard.
---
"Anti-racism and anti-fachism are a necessity and humanism and brotherhood a priority"
Prince Ringard, whose real name is Jean-Claude Lalanne, spent his childhood at the Saint-Vincent-de-Paul orphanage in Issoire (Puy-de-Dôme), with a certain Gérard Lenorman. A period he describes as happy. A gifted child, he passed his baccalaureate at the age of 14, joined the faculty of Nanterre where he obtained his bachelor's degree in law.
With a discography of twenty-four albums, Prince Ringard performs a hundred times a year in France, but also in Belgium or Switzerland. For more than twenty years, it has been Marianne Bily, his companion, known as Mousse, who accompanies him with guitar, harmonica, kick drum and snare drum. Friday, at the Entreme, the two artists seduced the public with their protest repertoire.
Jean-Claude Lalanne has been singing and playing music for several years now. Rue Mouffetard in Paris, while he was doing the round, he was spotted by the manager of the cabaret Le Bateau ivre, who offered to play there. He also makes some appearances in theater and cinema.
He also wrote his first book, which he wrote at the age of 12. Twenty-five others followed. "It's a way to channel my emotions, a therapy to stabilize me. By writing, I balance myself and feel useful, "explains the anarchist.
Returning from military service, he looks for himself and decides to go to the rescue of the young Republic of Biafra, newly self-proclaimed, the Igbo minority seceding from Nigeria, resulting in three years of war. Injured, Jean-Claude was quickly repatriated. "The French government has recognized the humanitarian nature of these operations and now pays me 65.31 euros per quarter for services rendered," he announces with a touch of irony.
Back in France, Jean-Claude continued his commitment. Considering himself now an anarchist, he frequented the Federation of the same name. "For me, who feels humanistic above all, I finally found a more open environment" His uncompromising lifestyle earned him a few stays in prison, for having returned by car to the window of a bar with far right regulars, for a breakage that went wrong, and some damage to a gendarmerie van.
In the France of the 1970s, he found his equilibrium, carried by the breath of the post-68 era. On the one hand the concerts, alone on stage with pre-recorded instrumental band, and on the other long sailing trips, first in Corsica and Gibraltar, then in Senegal, Burkina Faso and even further, in French Guiana and the West Indies. Antoine's side of the underground… "For the music, I could not have integrated into a group. I love my freedom too much and I would never have been able to take all these trips. "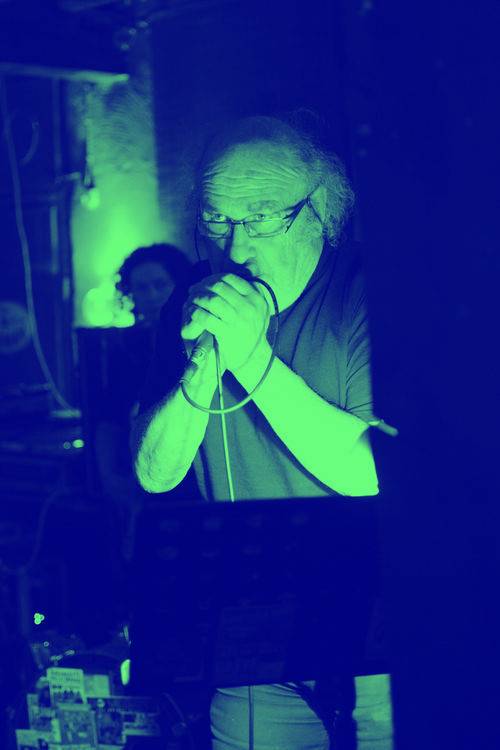 In the influence department, Prince Ringard rather claims those of Dylan and Neil Young. However, it is especially appreciated by punks. Moreover, he remains the first surprised. In 1977, when he arrived in front of the old Dunois theatre where he was to perform, punks waited for the doors to open. "I thought, they must have been wrong. So, I went to them to tell them. But no, it was me they had come to see. "
The punks' passion for this old Anarchist Father will never leave him. He sympathized with the members of Bulldozer, a short-lived punxploitation group set up by musicians from the rock band Martin Circus, or with the guitarist from Métal Urbain and later the singer from Parabellum. To mark his discrepancy with the movement, he nicknamed himself cat punk.
Since 1994, he has been accompanied on stage by his partner, Mousse, who enriches his tart diatribes. His songs, part of a very French tradition, are full of bourgeois, priest, politician and of course fascism. Every year, the prince and Mousse make a hundred dates, a semi-acoustic recreation in the middle of the decibels of the anarcho-punk and hardcore groups. "Even today, I still find it strange: the years go by but I still have a young audience under thirty. Out of time, out of modes and out of competition.
"My life is that of an ordinary man who has risked his skin a little more often than others, that's all. About Prince Ringard I am not an artist in the noble sense of the word. I sing like a prostitute stalking the sidewalk. I have no artistic or audiovisual references. I'm just yelling at what I've been through: violence, misery, prison, and the street. For this type of text, marketing is not necessary. I'm an independent whore, I say no to pimps, SACEM and other pimps can go and get hanged. The tenderness I show to the cops has sometimes been misinterpreted, the consequences are the result of an ordinary procedure: an eight square meter cell and that fucking smell of badly washed human meat. For the rest, I manage with my death instinct and my desire to love. My brothers and sisters on the pavement know what I'm talking about. Perhaps one day the homeless will no longer die of cold and despair. The only right we have left is to die shouting: neither god nor master!" ✪