The Bay Area based modern, aggressive post-punk quartet dishes out addictive, saturated songs in the vein of Killing Joke, Bauhaus and Gang of Four. However, the band's sound is an interesting pivot for its members — coming from backgrounds in heavy prog acts The Mass (Crucial Blast Records) and Totimoshi, psychedelic Brit-pop Dora Flood and wiry post-rockers Lower Forty Eight — some of whom have also switched instruments in this new configuration.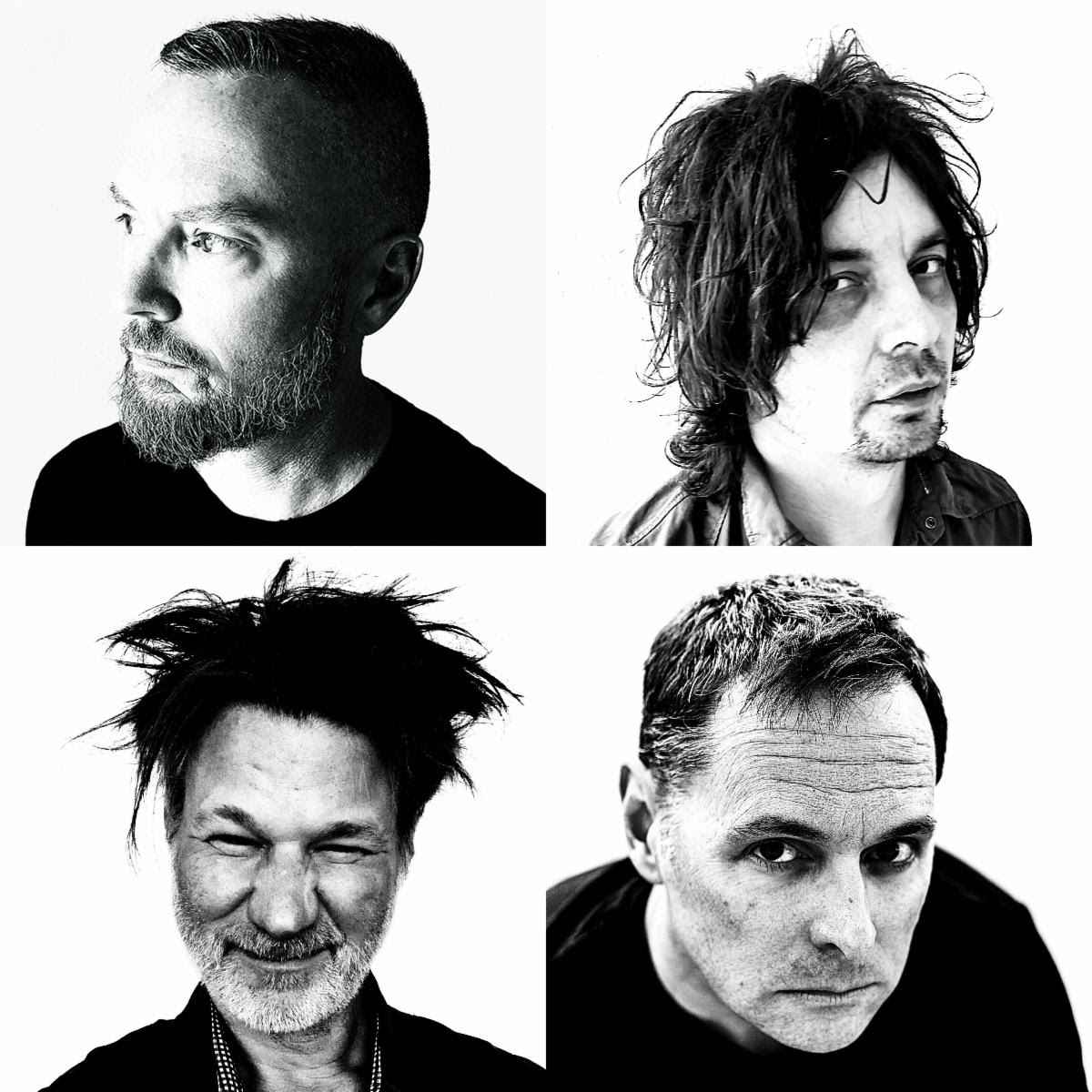 The band had just formed in early 2019, issuing its debut 4-song EP Wires Crossed in April that year and begun work on a full length album In Wastelands in early 2020 when the world suddenly ground to a halt.
In Wastelands wasn't supposed to be made this way. Pre-COVID, the plan was to record the album with Andrew Oswald (of Marbled Eye) at Santo Studio in West Oakland in June 2020. They had five songs done and four more in demo form when everything shut down. So the band mobilized. They all went mobile and committed to a fully remote recording process. In May, Kirk recorded drums for the five completed songs. Ville, Tyler and Andrew each recorded their parts in their home studios while still negotiating and refining the remaining songs to record. It was a gamble, but they wanted to do something.
With five songs completed, the band finished writing the remaining four and everyone once again recorded their parts separately at their homes. Files were sent to Tyler to mix. The process revealed that the band were onto something. Songs they had never played together began to take on a life of their own. And just as suddenly, they realized they had a powerful LP. Mixes were finished in January 2021 and sent to Justin Weis at Trakworx for mastering. The outcome is an incredibly satisfying album that incorporates elements of post-punk, metal and goth without drifting into cliches of any of these styles.
[bandcamp width=400 height=439 album=2140755160 size=large bgcol=333333 linkcol=ffffff artwork=small]
Thought Leaders was formed when Tyler Cox (drums, The Mass) and Andrew Lund (bass, The Mass; guitar, Lower Forty-Eight) decided to start writing music in the vein of dark, gritty post-punk bands from the 80s, pulling from a wide array of influences like early Echo and the Bunnymen, Siouxsie and the Banshees, and Wire. Singer Ville V, no stranger to the sound that was being constructed, joined and immediately began contributing lyrics, melodies, and music of his own. Kirk Snedeker was invited to play drums and was a perfect fit, having grown up absorbing many of the same influences. The band works collaboratively, with all members contributing musical ideas and production to create a sonic whole much greater than the sum of its parts.
In Wastelands will be available for download on July 9th, 2021 via King Of Sticks label. Pre-orders are available here. ✪