Club Dystopia is a fictitious club imagined by the artist populated by re-creations of now demolished buildings typical of the early Republic of Turkey, buildings whose architecture reflected the idealism of the newly founded nation state. Club Dystopia is Yeşim Akdeniz's second exhibition with Pi Artworks. She had previously exhibited with foundations such as MAK Museum (Vienna, 2013), Guggenheim Gallery (Los Angeles, 2013) and Stedeljik Museum (Amsterdam, 2004).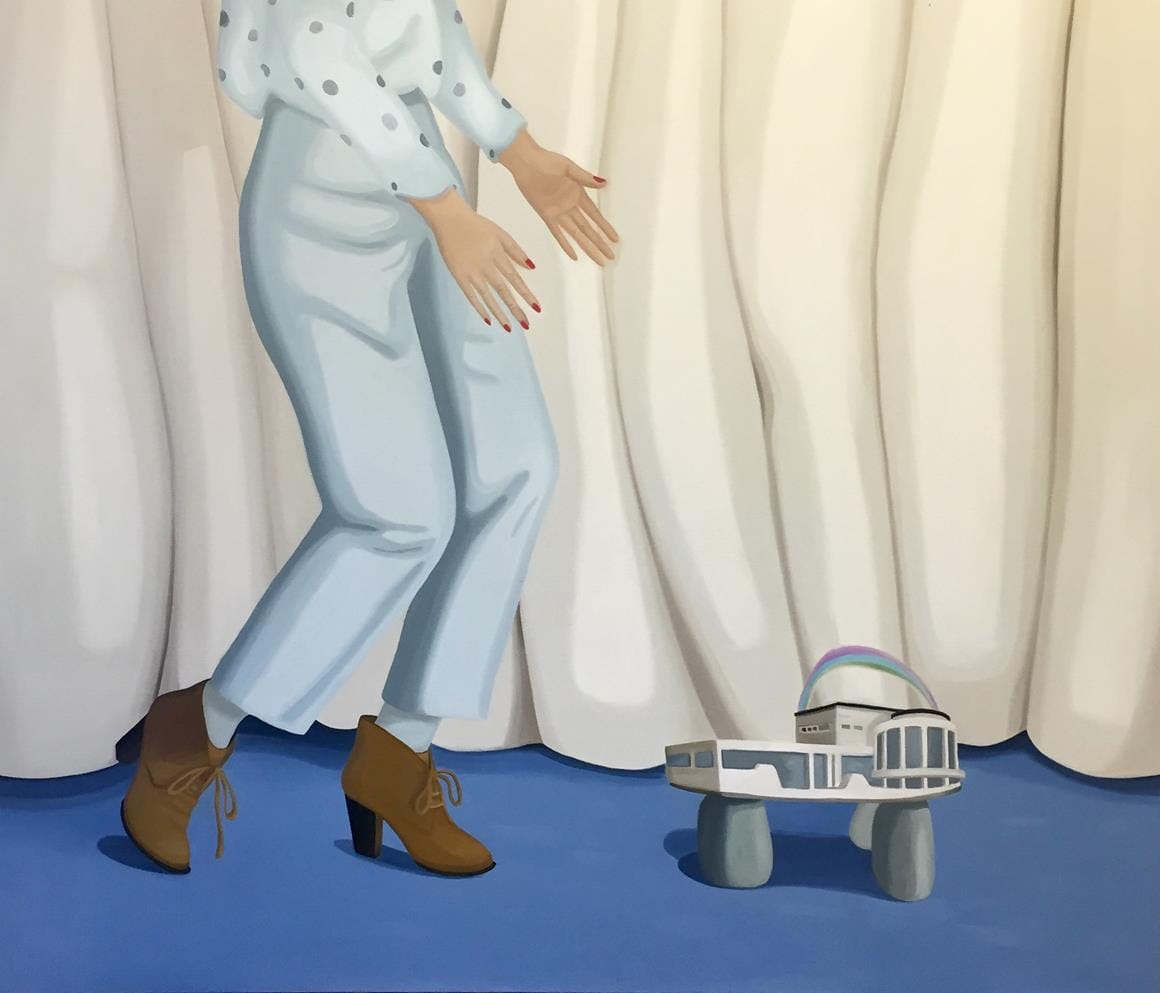 Images of deformed, often unpopulated buildings isolated from their original contexts, are central elements within Akdeniz's recent paintings. Those within her Club Dystopia are public buildings built with the aim of modernizing society in 1930's Turkey, and helping it adopt to a new lifestyle defined as 'ideal'. Within the club we encounter Taksim Municipality Casino, Çubuk Dam Casino, Ankara Exhibition House, and the factory buildings that used to populate various parts of Istanbul. Those buildings, now demolished or converted to different purposes, reflect the influence of Soviet architecture both in their aesthetic and their symbolic attempt at 'social engineering'. They are the silent representatives of an in-between interpretation of modernism, and have been the victims of the constant desire to erase the past and imposing the new. A mentality similar to that which led to their construction.
In these paintings, we can see the desire to affect human-life and pass on ideology through architectural objects. In these recent works Akdeniz is inspired by the Object Oriented Ontology* (OOO) doctrine (especially Timothy Morton's texts) as well as the Anthropocene, which refers to an era the world is believed to have entered characterised by global geological and ecological changes created of human activities. Based on these ideas, Akdeniz points out how nature is reshaped and transformed by the human hand.
The buildings and objects that came together in her interior and outdoor depictions have an aura. In the artist's compositions, they escape from human control and start their own life cycle and dialogues.
In the work titled 'Adventures in the Anthropocene' series – Last Dance in Taksim, there's a dancing woman, the only human figure that can be seen in the series. This work recalls Taksim Municipality Casino, which does not exist anymore. At the same time it raises contemporary concerns about the district's current chaotic situation.
Object Oriented Ontology

: The doctrine defends that human should not be considered to have a privileged position among the non-human objects.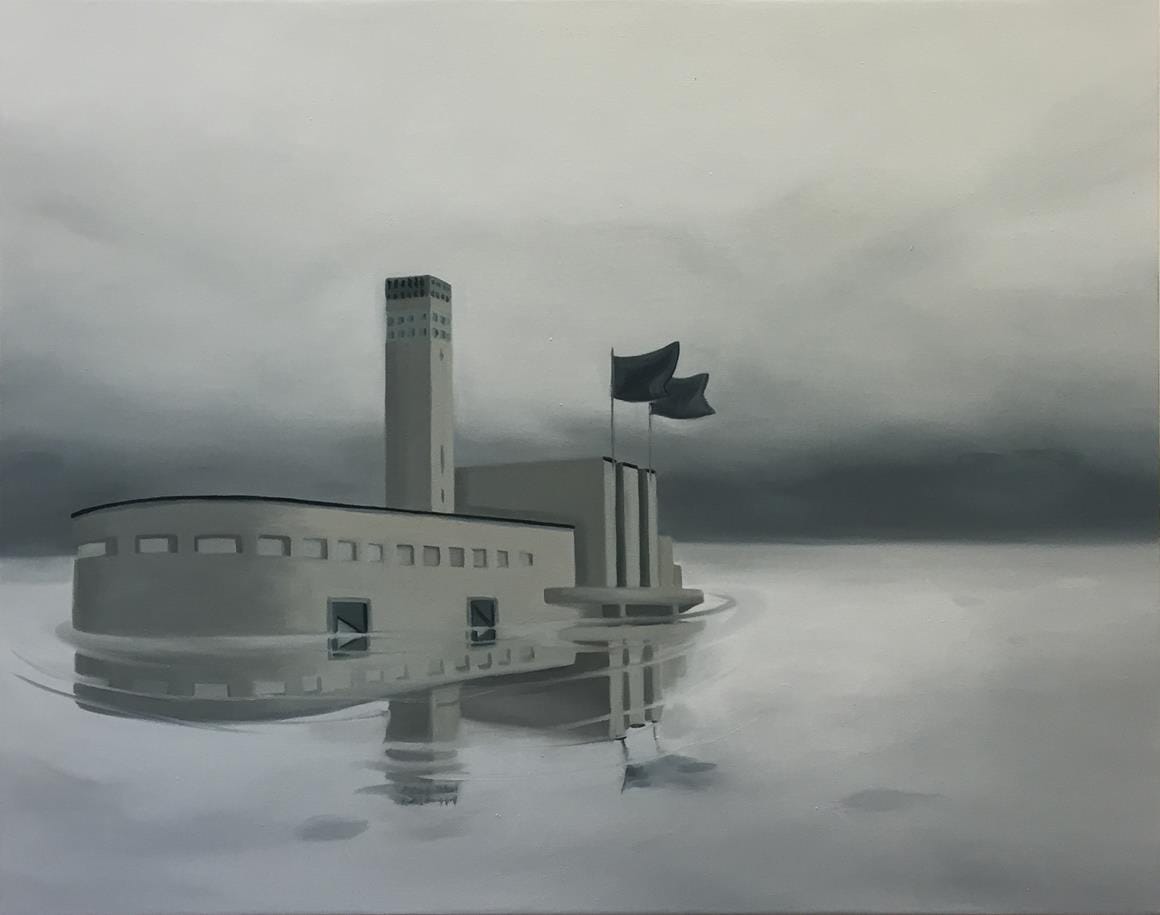 ---
Yeşim Akdeniz, b. 1978. Major exhibitions include The Secret Life Of My Coffee Table (solo), Pi Artworks London, UK (2015); Those Opposing and Those Sympathizing (solo), Dirimart, Istanbul, Turkey (2014); Le Peintre de la Modern, Galerie Jochen Hempel, Leipzig, Germany (2013); Wir Drei, Guggenheim Gallery, Los Angeles, USA (2013); Signs Taken in Wonder, Museum für Angewandtekunst, Vienna, Austria (2013); A Dream Within a Dream (solo), PAK Kunstverein, Hamburg, Germany (2011); and Confessions of Dangerous Minds, Saatchi Gallery, London, UK (2011). Major collections holding her work include Deutsche Bank Collection, Germany; De Nederlandsche Bank Collection, Germany; Fries Museum, The Netherlands; and De Ateliers, The Netherlands.
Yeşim Akdeniz: Club Dystopia
Pi Artworks Istanbul
İstiklal Cad. Mısır Apartmanı 163/4 Beyoğlu
13 May – 25 June 2016
Private view: 12 May, Thursday, 18:30 – 20:30
10.00 – 19.00 (Except Sunday) ✪