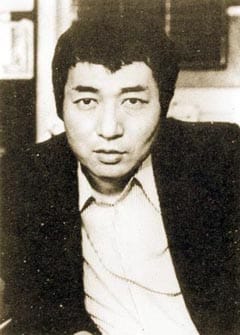 Terayama Shūji likes to start by melting. And he is not struck there in a place between traditionally assuming that the older possibilities of the video are just a surface, and finding them rotely deeper, because he's just 42 years old. The text weaves a web into the mouth of the cave -if necessary-, the writing opens the door, the rest remains to being inexperienced, and his confidence in his inexperience is so absolute that he makes a film about what is happening at the moment not on the continuation of history but as if writing over it.

Until 1980, his preferred pacifism as a reaction to the ban on doing nothing in Japan grows with his film experience. Even before the Quay Brothers appear, the sole hope the cinema had was this conflict. The art Quay does not allow non-human animals to be recorded against their will, or perhaps being forced to resemble themselves unaware in scenes they feel all of it as torture, because it is actually too fragile and reckless to need a hyperrealistic attribute of an image to show something; Terayama thinks, on the other hand, that he understands Lucien very well, because his loyalty to figurative life or language is like inherited illicit money in his homeland. He makes films against that bloodline that makes him feel like it belongs to him and announce aloud for some reason as at the same time he wants to devote all his will to misplace that bloodline.
It is said that brewing tea begins with a leaf falling spontaneously into boiling water.

Then the video cuts the unfair umbilical cord of cinema and art vulgarly. Writing turns paper/tree into a zombie that is forbidden to die; visual traces appear like foreign marks on the tape itself. It is said that brewing tea begins with a leaf falling spontaneously into boiling water.

Poetry, which seeks forgiveness from life for what language has done to it, also takes place in Terayama videos with this forgiveness ecosystem. Everyone read that book, and no one thought to do anything to ask its author for forgiveness. Making a film was still one way out of this apology fetish; where some things exist, your presence becomes an apology for not being one of them. The video is skinning the film thin.

He won't apologize anymore, because he did what he did to be unforgivable. Lautréamont finished with this, Terayama starts exactly here. No one has ever forged such a deep bond with the Earth that allows anything can walk on it. Admit it, your biggest fear is that something will walk on you.
It's all behind us before it even happens. ✪
---